Your Pet's Surgery
Compassionate, Skilled Care When Your Pet Needs it Most
When your pet needs surgery, you can have confidence your Vancouver veterinarian at Salmon Creek Veterinary Clinic will work hard to ensure the procedure is completed according to the highest surgical standards and is as comfortable and stress-free as possible for both you and your pet.
Worried about costs? We accept CareCredit payment plans, so keeping your pet healthy and happy doesn't have to mean a strain on your wallet. Click to apply today.

Surgical Procedures for Your Pet
Our experienced Vancouver veterinarians perform many types of surgeries, including but not limited to:
Spays and neuters
Eye surgery
Bladder surgery
Tumor removal
Gastrointestinal surgery
Cancer surgery
Skin surgery
Cesarean sections
Gastropexy
We understand the decision to allow your pet to undergo surgery is never easy. To that end, your Vancouver veterinarian will be happy to answer any questions regarding your pet's spaying, neutering, or general surgery, as well as provide you with information on proper postoperative care. It is our goal that you feel comfortable knowing you are making the right choice for your pet.
Personalized Anesthesia
Ensuring the health and safety of your pet during surgery is our priority and requires an anesthetic and monitoring regimen that adheres to the highest principles and ideals of quality care. We utilize a state-of-the-art monitoring and anesthesia system to ensure your pet's safety during all surgeries.
Prior to surgery, your pet will receive a thorough physical examination to identify any medical conditions that might endanger your pet's health. We also recommend pre-anesthetic blood testing. These tests not only give us a more complete picture of your pet's health, but also allow us to tailor an anesthetic regime for your pet.
We offer a wide variety of anesthetic protocols tailored to your pet's needs. During surgery, your companion is cared for by a well-trained, experienced veterinary technician using our monitoring system, which tracks blood pressure, heart rate, respiratory rate, body temperature and oxygen level, EKG and end tidal CO2.
All anesthetized animals also receive IV fluids for perfusion and support of the heart and kidneys.
Comprehensive Pain Management
We all know pain hurts, but pain also has many other detrimental effects on your pet's body. Pain slows healing, decreases activity and causes behavioral changes such as aggression, anxiety and depression. Pain can also worsen some diseases like arthritis and potentially some cancers and interfere with the bond between you and your pet.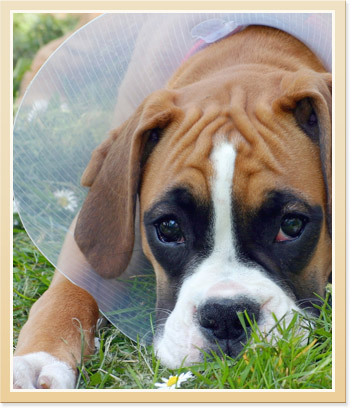 As part of our commitment to keep your pet comfortable and protect the bond you share, pain management is part of our pre-operative, intra-operative and post-operative anesthetic and medical protocols. For surgeries as well as for acute and chronic conditions, we use all our available and safe resources, including local anesthetics, NSAIDs (non-steroidal medications), opiods and analgesics for the complete comfort of your pet.
Healing Postoperative Care
Following surgery, your pet is closely monitored and kept warm and comfortable by our attentive medical staff for a safe recovery. As your pet is discharged from the hospital, you will be provided with detailed information on how to administer any medication and properly care for your pet after surgeries like spays and neuters. We are also available to answer any questions or concerns that may arise after you and your pet return home.